Down Memory Lane: At The Tailor's
|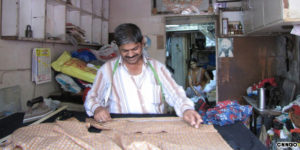 Long ago whenever we came across a barber's shop then the tailor's wouldn't be too far. And for us children we always thought that the tailor was far more chummy than the hairdresser. Here we were definitely more relaxed; flushed with anticipation of new dresses we would come in enthusiastically with our cloth bought by parents or grandmother. Tonton Devindar, the tailor, a thin short man, would stretch his tape across our shoulders, chest, waist and thighs to measure the cloth to be cut for the coming Deepavali: shirt and shorts. A few polite words might be exchanged with the master of the place and off we would go; we hoped to drop in for a trial followed by a final delivery.
Whilst there we would cast a timid glance around, and would wonder at those hundreds of pieces of colourful narrow strips of cloth heaped into a corner gathering dust or cobweb. Still in a far corner of the paved floor of the room or of the verandah would be a small heap of ash and half burned charcoal, the remnants from the entrails of the tailor's iron. And if we were lucky we might, on a Sunday, have the opportunity to witness the tailor or his assistant, Mr Mami, manipulating his hot iron to press the 'costume' (suit) of so and so, who would surely be going to a wedding later in the day. Being no duty of the housewife, the ironing of the suit had become that of the tailor's exclusively. We as children would stare with wonder and fun, as he placed the shoulder part of the jacket on a rounded, thick khaki coloured cushion in his left hand, and with the hot iron in the right he would start to press the wonderful woollen jacket while, now and then, he would be sprinkling some cold water on the piece of cloth on top of the suit. And we would look on as a sizzling sound could be heard when the hot metallic base of the iron slid on the watered tissue below, and all the while a cloud of whitish water vapour would escape from the cloth and iron. We were too young to understand the physics of all this magic, but we definitely envied those grownups and yearned for those future days when we would start having our own suits made of superior cloth rather than cotton, of which our shorts and shirts were made.
Somehow or other, in our mid-teens, the tailor's shop became a more attractive and favourite port of call, as our barber's had. What stories we would hear in his company! We would garner something about so and so, about the failures or strategies of such and such political party, about the English football leagues' games and heroes, or about the excitement at an impending general election. Children of those days dared not add their comments, nor show overenthusiastic interest in the elders' discussions, lest they be branded as ill-mannered.
We somehow started to rub shoulders with the young men frequenting that shop. Some of them, after completing primary school, had some odd jobs in the vicinity and in the afternoon they would call at the tailor's to while away the time. Some of us, attending secondary school, did find the occasion to drop in once in a while to get the latest news. Had we been a nuisance to the master of the house we would have known about it – instead we could feel that we were welcome; combining work and pleasure — talk and witticism — was no nuisance to the tailor. It had become such a regular routine that one's prolonged absence from home would be unnoticed, or was tolerated by the mother. But during exam period we students would give the tailor a miss; we would just say hello and go on our way.
The Assistant Tailor
Years later, most probably after the cyclone Carol, having left the vicinity of the Chinese shop some 300 metres away, Mr Mami, the assistant tailor, would come just a stone throw almost opposite to our house in Pasteur Street to set shop on his own. This time there was a smaller tin sheet room, next to an adjacent one which served as a football club for teenagers. And behind it was the proprietor's house. The whole complex was well surrounded by mango and other fruit trees and a lot of shade, which always gave the building a cool, pleasant beckoning atmosphere.
Being too young we were never sure whether Mr Mami was really an assistant to Tonton Devindar or whether he was employed as the sole specialist for suit stitching. My friendship with Mr Mami got reinforced, much to my intent and ploy of using him as a scapegoat to give my studies a miss. Of course the tradition to make his working place the port of call for everyone of us of the vicinity was never lost. Come 4 pm and the horde would start to trickle in irresistibly, to continue yesterday's conversation, or bring fresh news to be shared by one and all. The tailor's shop stayed the unofficial parlour by excellence.
We young boys would stare as Mr Mami would stretch his clients' cloth on his working table, caress it with the flat of his hand, so as to render it creaseless. And with the stare of a mathematician through his thick rounded glasses, he would stretch his measuring tape, mark the length, go from left to right, or north to south, marking straight lines or curves with a flick of his special rectangular tailor's chalk and his ruler. Having checked or double checked his book for measurements, he would, with the concentration of a surgeon, take his heavy, thick tailor's scissors to carve through the cloth on his table. However, that would not prevent him from eavesdropping on his company's chit chats or to pass some half comments in some undertones, perhaps to remind one and all that he remained the boss of the lieu.
Tom would be praising his favourite cowboy actor in the latest western, while Dick would prefer to talk of the latest score of his English football team. Still Harry was all praise for the coming 'Indian' film or for a memorable, heart-breaking melodramatic scenario of yesteryears. We youngsters would listen and drink all in. Or some middle-aged patrons, whose interest in the modern movies was fast waning, would tackle more serious issues of the day, such as the latest manoeuvres of some political parties or predicting the future of an upstart on the political scene. Some of the elders, generally less talkative, would have had the advantage of a seat on a stool or a solitary chair — while recommending vehemently some grand mothers' remedy: a mixture of honey and lemon juice for the chronic cough of so and so, or to insist that a good poultice of turmeric paste (safran vert) was what Tom needed for his chronic, non-healing wound. Meanwhile we young boys stood and leaned at the far end of Mr Mami's working table for a comfortable gait, far from those illuminati, with our manner hinting that we dared not challenge those great diagnosticians' prescriptions.
It was only years later that we would be entertained with a radio transistor with the music and songs of the 60s or 50s and the latest news. Of course the reception would not be as clear as nowadays, it was full of static and wavering sounds, and this demanded frequent repositioning and re-orientating of that creaking old transistor. Some smart one would suggest that the antenna be extended or connected to some metallic frame outside. On some occasions there would be the live commentary from George V stadium whenever some great foreign football team would be challenging our national team.
At times some of the unemployed older teenaged boys would also be part of the company; apart from home there was no place for them to go… And many of them were good at checkers games; they would readily find a checkers board — courtesy of the tailor — and the boys would be indulging in deadly games almost everyday, while others would be silent spectators, and sometimes siding with their favourite player. However, Mr Mani would see to it that they keep aloof, in a corner of his shop – out of his way, or, worse comes to worse, request them to play outside under the verandah. That was alright during the summer days, but come the biting cold of winter months the young players in their shorts would be shivering. Yet they would sit with bent knees and still carry on under that open verandah, much to the indifference of those who had found a more comfortable berth inside the tailor's shop.
Dr Rajagopal Soondron
An Appeal

Dear Reader

65 years ago Mauritius Times was founded with a resolve to fight for justice and fairness and the advancement of the public good. It has never deviated from this principle no matter how daunting the challenges and how costly the price it has had to pay at different times of our history.

With print journalism struggling to keep afloat due to falling advertising revenues and the wide availability of free sources of information, it is crucially important for the Mauritius Times to survive and prosper. We can only continue doing it with the support of our readers.

The best way you can support our efforts is to take a subscription or by making a recurring donation through a Standing Order to our non-profit Foundation.
Thank you.